• dried flower arrangement • dried flower wreaths • floral studio • florist • flower crowns • richmond • succulents • summer arrangement • teapotworkshops • things to do • workshops
Our Summer Workshop Schedule is Here!!! Ever wanted to try your hand at floral design, succulent planting, candle making or cake decorating? Well, now you can! We host seasonal workshops so we can share our love of flowers and design with you. Flower crowns, table-styling , dried flower bouquets; we've created custom workshops to show off your skills! All of our workshops are located at our new floral studio Unit 128-12520 Horseshoe Way, Richmond Here are our upcoming Summer Workshops Flower Crown Workshop  July 2, 2020  -630pm-8pm $65/person or $60/person if you sign up for 2 or more!  Succulent and Tea Workshop...
---
• centrepieces • holiday • holiday decor • workshops • wreath
Join us for a festive evening at one (or more!) of our December workshops and walk away with a unique and custom-designed (by you!!) piece of holiday decor! See our workshops page for schedule and details!
---
• brouquets • floral crowns • floral frames • flower classes • workshops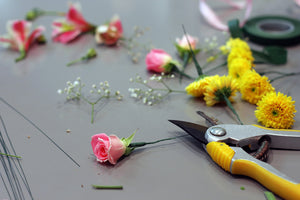 UPCOMING WORKSHOPS! Monday, March 13th 6:30-8:00pm - FLOWER CROWNS We all have a little princess in us! Join us for our floral crown workshop! Our florists will show you how to create the base for the flower crown and attach the flowers to it. The florist will show you a sample and then do a demo on trade techniques. You get to pick how full and what blooms you want on your crown. Then we will all gather hands and sing ring around the posey:):) Includes: All flowers, tools and supplies needed. Detailed instructions and demonstration. Your finished project as...
---
• centerpieces • holiday workshops • tablearrangements • workshops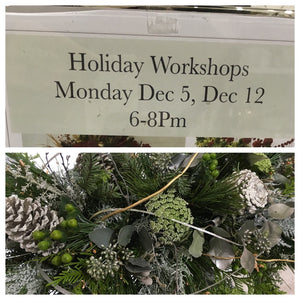 Sign up for our Holiday workshops! Monday Dec 5th and Dec 12th!! Due to  customer requests we have joined the wreath making and table arrangement together. This way when your friends want to make a wreath and you want a table arrangement for your holiday dinner party you can make whatever your heart desires! Each workshop is from 6-8pm and is so much fun! Prepare to relax and enjoy making your own custom centerpiece. We will show you examples of what it could look like and then you go and make yours to suit your style/home. Our florist will walk...